Articles:
---
Did you know Red Peppers have more Vitamin C than Oranges?!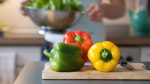 Foods With More Vitamin C Than Oranges title: A cup of chopped red bell pepper contains nearly three times more vitamin C than an orange—190 mg. Red peppers are also a great source of vitamin A, which promotes eye health.
https://abcnews.go.com/Health/Wellness/12-foods-vitamin-oranges/story?id=20729780
Vitamins & Minerals
Vitamin C: One medium-sized red bell pepper contains 169% of the RDA for vitamin C, making it one of the richest dietary sources of this essential nutrient.
Vitamin B6: Pyridoxine is the most common type of vitamin B6, which is a family of nutrients that are important for the formation of red blood cells.
Vitamin K1: A form of vitamin K, also known as phylloquinone. It is important for blood clotting and bone health.
Potassium: An essential mineral that may improve heart health if consumed in adequate amounts (2).
Folate: Also known as folic acid, folacin, or vitamin B9, folate has a variety of functions in the body. Adequate folate intake is very important during pregnancy (3).
Vitamin E: A powerful antioxidant, essential for healthy nerves and muscles. The best dietary sources of this fat-soluble vitamin are oils, nuts, seeds, and vegetables.
Vitamin A: Red bell peppers are high in pro-vitamin A (beta-carotene), which is converted into vitamin A in the body (4).
Bottom Line: Bell peppers are very high in vitamin C, and one bell pepper may provide up to 169% of the RDA. Other vitamins and minerals found in bell peppers include vitamin K1, vitamin E, vitamin A, folate, and potassium.
https://www.healthline.com/nutrition/foods/bell-peppers#section3
---
Spinach 101: Nutrition Facts and Health Benefits
Image chosen by Nicole Porlier, Culinary Nutrition Expert
Written by Kris Gunnars , BSc, on October 3, 2015
Spinach is a leafy green vegetable.
Scientifically known as as Spinacia oleracea, spinach belongs to the amaranth family and is related to beets and quinoa.
Spinach originated in Persia, but is now produced mostly in the US and China.
It is loaded with nutrients and antioxidants, and considered to be very healthy.
Eating spinach may benefit eye health, reduce oxidative stress, help prevent cancer and reduce blood pressure levels
There are many ways to prepare spinach. You can buy it canned or fresh, and then eat it cooked or raw. It is delicious either on its own or in other dishes.
Vitamins and Minerals
Spinach is an excellent source of many vitamins and minerals:
Vitamin A: Spinach is high in carotenoids, which the body can turn into vitamin A (3).
Vitamin C: Vitamin C is a powerful antioxidant that promotes skin health and immune function.
Vitamin K1: Vitamin K is essential for blood clotting, and one spinach leaf contains over half of your daily need.
Folic acid: Also known as folate, or vitamin B9. It is essential for normal cellular function and tissue growth, and is very important for pregnant women.
Iron: Spinach is an excellent source of this essential mineral. Iron helps create hemoglobin, which brings oxygen to the body's tissues.
Calcium: Calcium is essential for bone health. This mineral is also a crucial signalling molecule for the nervous system, heart and muscles.
Spinach also contains several other vitamins and minerals, such as potassium, magnesium, and vitamins B6, B9 and E.
Bottom Line: Spinach is an extremely nutrient-rich vegetable. It contains high amounts of carotenoids, vitamin C, vitamin K, folic acid, iron and calcium.