Wine Making for Special Occasions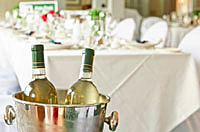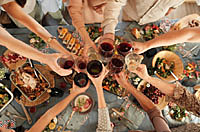 Your special celebration deserves its very own wine, hand-crafted and personalized to make it as unique as the occasion. When you choose wine making at The Glass Half Full you'll have the very best wine for your special occasion, all dressed up with custom labelling and special bottles.
Not sure which wine you should serve with the meal at your wedding, or which wine would be best as a gift for the guests at your Christmas party? Count on us to assist you with the selection process and help you choose the ideal wine, whether you're serving 30 people or 300. Is there still enough time to start a wine that will be ready to serve on your special day? Some wines mature earlier and are ready to serve sooner, while others benefit greatly from a few months of ageing. We'll recommend to you wines that will mature within the appropriate time. You should allow at least two months from the start of your wine to the day it is served.
You want your wine to taste great, but you also want the look of the packaging to be just as memorable as the occasion. You'll love our selection of custom labelling, ranging from laser-printed labels featuring your personal message, to special designs permanently-imprinted directly onto the bottle.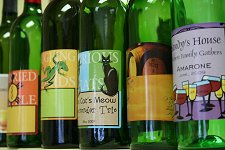 What's more, we'll take care of all the details. Once you've chosen and started your special wine, you'll leave all of the wine making to us. We'll also co-ordinate the labelling, bottles and other supplies, and have everything ready for you. Return in a few weeks to bottle your wine, and in an hour or two you're all done!
We're happy that you're considering personalized wine making for your special occasion, and we would be honoured to help you make your day extra-special.
Call us today at 905-339-1603, email us or fill out an info request to arrange a wine making consultation, and let's discuss the possibilities!