NEW! Sparkling Hard Lemonade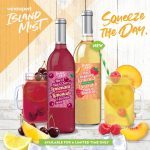 Squeeze The Day with our delicious Sparkling Lemonade. Light, bubbly and lightly sweet, with a crisp refreshing finish. 10% abv. Only available for a limited time.

Wine Products
Our Wine Making process uses Premium Grapes, Fresh Juices and Premium Quality Wine Kits.
Wine making at The Glass Half Full means putting quality first, and premium- quality wine begins with premium-quality grapes, pure juices and wine kits. That's why we carry a wide variety of products from around the world, and we're always searching for new and better products to introduce to you.
Reserve Series
If you enjoy full-bodied, full-flavoured wines that are a perfect accompaniment to your favourite meals, you'll love our Reserve Series wines. These wines are made from fresh or frozen grapes, 100% pure juice or ultra-premium wine kits. They are sourced from many of the best wine-growing regions in the world like  South Australia, Napa Valley (California), Maipo Valley (Chile), South of France, Niagara Peninsula and many others.
Reserve Series wines are ready for you to bottle in as little as eight weeks, and they benefit greatly from several months of ageing in the bottle. Many are capable of ageing in your cellar for three years or more. Maipo Valley Cabernet Sauvignon, Australian Shiraz, Italian Amarone and Niagara Pinot Noir some of our most popular in this Series. We have won several awards with these wines, so you can be sure that you'll love them.
International Series
These wines come from some of the most popular wine-producing countries in the world, like Italy, Australia, New Zealand, Chile and California. They are approachable, crowd-pleasing wines that are ideal for you to serve to guests, whether you're hosting a small friendly get-together or a big barbeque party.
These wines are ready for you to bottle in 6 weeks, and to serve in as little as two months. Choose from favourites like New Zealand Sauvignon Blanc, Chilean Merlot and South-African Chenin Blanc.
Wine Lover Series
If your preference is for easy-drinking, light-to-medium bodied wines that are suitable to be enjoyed early, our Wine Lover Series is for you. These popular wines are ready for you to bottle in as little as four weeks, and are ready for you to enjoy 2-3 months from bottling. They are available in many popular varieties like Merlot, Cabernet Sauvignon, Malbec, Chardonnay and Sauvignon Blanc.
Specialty Series
Our Specialty wines consist of dessert and aperitif wines like Ice Wine and Port. Enjoy these delicious specialties before dinner, after a meal or accompanied with blue cheese or chocolate. You'll also enjoy giving Ice Wine as a gift, in a bottle featuring your own personalized label.
Ask us for one of our cocktail recipes that use these wines.
Take Home
If you're a home winemaker, you'll be pleased to know that all of our wine kits and most of our pure juices are available for you to take home. We'll be there to provide you with expert advice to help you select your wine kit or juice, and you can also obtain from us many of the supplies you need to help make your wine making a success.
We proudly offer wines made with premium quality products from:

Whatever your taste in wine, let the wine making experts at The Glass Half Full provide you premium-quality wine, made from premium-quality wine kits and pure juices. Call us today to arrange a wine making consultation!