NEW! Limited Edition Collection, LE22

Some of our best wines of the year! Winexpert LE22 limited edition showcases 5 exclusive wines from some of the best regions in the world.
For more info on each variety, click here
Deadline for orders is Nov 10th, 2022. Contact us for details.

Wine Products
Wine making at The Glass Half Full means putting quality first, and premium- quality wine begins with premium-quality grapes, pure juices and wine kits. That's why we carry a wide variety of products from around the world, and we're always searching for new and better products to introduce to you. Our Wine Making process uses Premium Grapes, Fresh Juices and Premium Quality Wine Kits.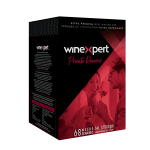 Winexpert Private Reserve
If you enjoy full-bodied, full-flavoured wines that are a perfect accompaniment to your favourite meals, you'll love our Reserve Series wines. Winexpert Private Reserve ultra-premium wine kits are sourced from many of the best wine-growing regions in the world like Tuscany (Italy), Napa Valley (California), Languedoc (France), Marlborough (New Zealand) and many others.
These wines are ready for you to bottle and enjoy in as little as eight weeks, are approchable while young, yet they also benefit from several months of ageing in the bottle. Many are capable of ageing in your cellar for three years or more. best sellers include Italian Amarone, French Bordeaux and Sonoma Valley Chardonnay. We have won several awards with these wines, so you can be sure that you'll love them.
Winexpert Reserve Series
These wines come from some of the most popular wine-producing countries in the world, like Italy, Australia, New Zealand, Chile and California. They are approachable, crowd-pleasing wines that are ideal for you to serve to guests, whether you're hosting a small friendly get-together or a big barbeque party. These wines are ready for you to bottle in 6 weeks, and to serve in as little as two months. Choose from favourites like New Zealand Sauvignon Blanc, Argentine Malbec and CaIifornia Merlot.
Winexpert Classic
If your preference is for easy-drinking, light-to-medium bodied wines that are suitable to be enjoyed early, our Classic series is for you. These popular wines are ready for you to bottle in as little as four weeks, and are ready as early as 2 weeks from bottling. They are available in many popular varieties like Merlot, Cabernet Sauvignon, Chardonnay and Pinot Grigio.
Niagara Special Wines
Each autumn, we celebrate the harvest by offering some very special wines, made from scratch with 100% grapes from a single vineyard in Niagara. They express the best flavor and varietal character, and are a special treat. They take several months of our expert care before being ready to bottle, so plan to reserve well in advance. Your patience will be rewarded. Annual favorites included Dry Riesling, Chardonnay and Barrel-Aged Cabernet-Merlot
We proudly offer wines made with premium quality products from:
Whatever your taste in wine, let the wine making experts at The Glass Half Full provide you premium-quality wine, made from premium-quality wine kits and pure juices.
Call us today at 905-339-1603 or click here to arrange a wine making consultation!