Dear Wine Lovers,
During the month of March, when you purchase any Winexpert Classic, Reserve or On The House wine, will make a $10.00 donation to the Oakville and Milton Humane Society. Your donation will support the care of two very special rescued animals that need our help, Beauty and Shelby (see below). They have been at the shelter for a while and like many others are searching for their forever homes.
In the meantime, they need our support to help cover the cost of their care.
Learn more about the OMHS.
Your support is greatly appreciated. You are totally PAWSOME!
---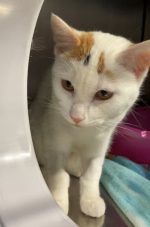 SHELBY
Domestic Short Hair
Female
1 Year old
Shelby was found as a stray, so we don't know anything about her life before coming to us. She is ready to find her forever home!
Shelby is a very sweet cat who is still a little bit scared of life. While she has made a lot of progress while here, and has been so brave, she still has a bit more to go!
Simple things like petting, and picking her up will be a work in progress for Shelby, although we have discovered her one true love! Temptations Creamy Purée! With one of these tasty treats, Shelby will gladly come out of her shell to devour her snack while purring away!
Food will definitely be the way to Shelby's heart, which will be a great way to earn her trust and love! Once she gets comfortable in her home, she will make sure to let her personality shine!
Shelby is looking for a quiet, adult only home that has lots of patience to show Shelby the world isn't scary! If she sounds like the purrfect cat for you, please apply for her today!
Click photo to see more photos and learn more about Shelby!
---
BEAUTY
Labrador x American Bulldog
Female
3 Years old
Beauty was transferred from another rescue and came to the Humane Society all the way from northern Manitoba. Little is known about her life before rescue. She is affectionate and attention seeking. She is sweet, friendly and loves pets.
Beauty is always happy and smiling. She is smart, food motivated and house trained. She travels very well in cars, is high energy, playful and goofy. Beauty loves scratches on her behind and will back up into you for a good bum scratch.
Click photo to see more photos and learn more about Beauty!