"Wine to me is passion. It's family and friends. It's warmth of heart and generosity of spirit. Wine is art. It's culture. It's the essence of civilization and the art of living."
The late Robert Mondavi, winery owner.
At The Glass Half Full, we believe that wine is not simply a beverage for you to drink, it is an experience for you to share with friends and family. Wine brings together people, places, history and special moments.
Our greatest ambition is to share with you our passion for the world of wine. It is what drives us to continuously develop interesting new wines of higher quality, to share with you our knowledge of wine, and to always elevate the high standards of the wine experience that we provide to you. Some of our best wines are made using oak barrels and stainless steel tanks to bring out their best.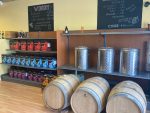 We help you create, with minimal time and effort, your very own premium-quality wines. We are certified wine experts, and we pride ourselves in providing you with top quality, carefully-selected wines that we personalize to suit your own needs and preferences. Our wines compare in quality to store-bought wines costing over twice as much, and with us, your satisfaction is unconditionally guaranteed from the moment you bottle your wine.
Planning a wedding, anniversary or birthday party? Talk to us about our Special Occasion Wine Making Packages that include personalized labels!
Call us at 905-339-1603 or click here to arrange a wine making consultation.
Start enjoying a superior wine experience with The Glass Half Full.