Did you know Red Peppers have more Vitamin C than Oranges?!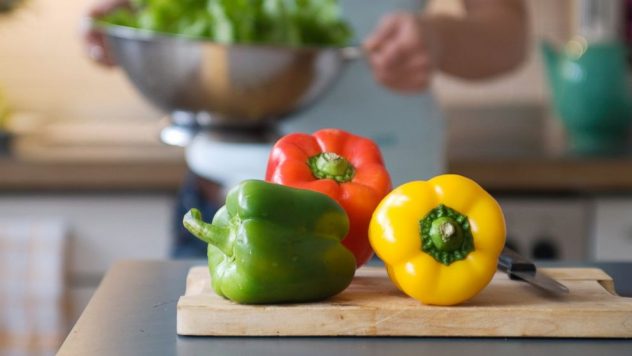 Foods With More Vitamin C Than Oranges title: A cup of chopped red bell pepper contains nearly three times more vitamin C than an orange—190 mg. Red peppers are also a great source of vitamin A, which promotes eye health.
https://abcnews.go.com/Health/Wellness/12-foods-vitamin-oranges/story?id=20729780
Vitamins & Minerals
Vitamin C:One medium-sized red bell pepper contains 169% of the RDA for vitamin C, making it one of the richest dietary sources of this essential nutrient.
Vitamin B6:Pyridoxine is the most common type of vitamin B6, which is a family of nutrients that are important for the formation of red blood cells.
Vitamin K1:A form of vitamin K, also known as phylloquinone. It is important for blood clotting and bone health.
Potassium:An essential mineral that may improve heart health if consumed in adequate amounts (2).
Folate: Also known as folic acid, folacin, or vitamin B9, folate has a variety of functions in the body. Adequate folate intake is very important during pregnancy (3).
Vitamin E:A powerful antioxidant, essential for healthy nerves and muscles. The best dietary sources of this fat-soluble vitamin are oils, nuts, seeds, and vegetables.
Vitamin A:Red bell peppers are high in pro-vitamin A (beta-carotene), which is converted into vitamin A in the body (4).
Bottom Line:Bell peppers are very high in vitamin C, and one bell pepper may provide up to 169% of the RDA. Other vitamins and minerals found in bell peppers include vitamin K1, vitamin E, vitamin A, folate, and potassium.
https://www.healthline.com/nutrition/foods/bell-peppers#section3