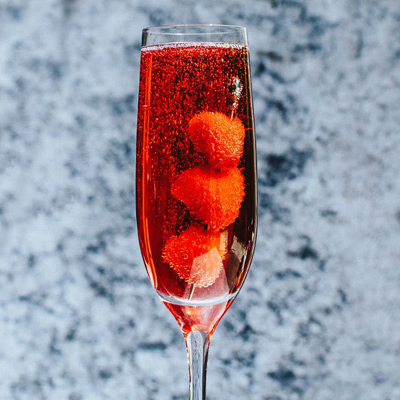 New Year's Eve is perhaps the most iconic of drinking holidays. New Year's Eve brings a particular level of class and sophistication to drinking. This is, of course, largely to do with the signature drink of the holiday: Champagne.
Not everyone has an appreciation for the bubbly French wines, though. Others prefer to toast the end of the year in style with brightly colored bubbly drinks. The New Year's Sparkler is such a drink; it's a breeze to make and can be adjusted to individual tastes.
INGREDIENTS
1 ounce berry-flavored vodka
1 1/2 ounces pomegranate or cranberry juice
3 1/2 ounces Champagne, chilled, to top
Garnish: skewered raspberries
INSTRUCTIONS
Add the vodka and pomegranate or cranberry juice to a chilled Champagne flute.
Top with the Champagne.
Garnish with raspberries on a long skewer.
Yields: 1 serving
---
Original article by: Liquor.com
From: liquor.com/recipes/new-years-sparkler