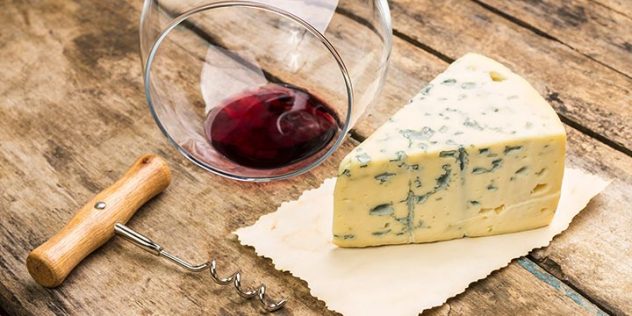 Even though it is a centuries-old tradition, matching cheese and wine together can still be a challenging and intimidating task. If done correctly, a perfect match can be an exquisite experience. Every detail in making the pairing needs to be considered. While a wine or a cheese by itself may be spectacular, that does not necessarily mean that pairing them is a good idea. Most people have not had years of experience focusing on tasting many wine and cheese options and become familiar with the characteristics and qualities of each. Here are some ideas that will help guide you into creating successful pairings:
1. Cabernet Sauvignon and Extra Sharp Cheddar
A full-bodied and dry red Cabernet Sauvignon has hints of herbs and dark fruits. When paired with the extra sharp cheddar, the red wine draws out the bold cheddar flavors of this strong cheese. Cabernet Sauvignon also works well with other intense cheeses, particularly ones that are firm and salty.
2. Merlot and Garlic and Herb Cheese
The garlic and herb cheese has sharp and tangy flavors. When paired with the Merlot, which is a dry red wine that is medium to full-bodied, the cheese brings out notes of black cherry, plum, and black tea. The garlic and herb cheese flavors are more heavily emphasized because of the Merlot's dry fruitiness.
3. Malbec and Vintage or Reserve Cheese
Reserve or vintage cheese has robust flavors, which need a red wine that can hold up against it. Malbecs are medium to full-bodied red wines that have black fruit, anise, and herb notes. The strong flavor of the Malbec complements the vintage or reserve cheese.

4. Pinot Noir and Vermont Sharp Cheddar or Gruyere
Vermont Sharp Cheddar is aged and needs to be paired with a wine that has earthy notes, such as Pinot Noir. Pinot Noir is a dry and light to medium-bodied red wine that has these characteristics along with ripe red fruit flavors. It also works well with a nutty cheese with medium firmness, such as Gruyere.
5. Syrah/Shiraz and Aged Cheese
Aged cheese has intense savory flavors. Wines that are paired with them need to be equally intense and should also be rather dry. Syrah holds up well in this pairing because it is dry, medium to full-bodied, and has dark fruit and herb flavors. A Shiraz with tobacco notes works particularly well with smoked cheeses.
6. Chardonnay and Mild Cheddar, Colby Jack, or Triple Cream Cheese
Chardonnay is a dry, medium-bodied white wine with apple and pear notes, which makes it fruity and crisp. These features help enhance the characteristics of either of these mild cheeses, particularly the creaminess and the sweetness. Pungent washed-rind cow's cheeses will lose its stinky characteristics when paired with Chardonnay, but you can also opt for milder, traditional triple cream cheese to avoid the smell.
7. Sauvignon Blanc and Monterey Jack or French Goat Cheese
This cheese is known for its subtleness and needs to be paired with a wine that won't overwhelm it. Sauvignon Blanc is a light-bodied, dry and bright white wine that has citrus and grassy notes that complement the cheese. This wine also works well with firmer French goat cheese that has developed spicy flavors.
8. Pinot Grigio and Mild Cheese
Pinot Grigio is a light-bodied, dry white wine has refreshing pear and melon flavors. Its high acidity acts as a palate cleanser that prepares you for having mild cheese.
9. Riesling and Spicy and Powerful Cheeses
Riesling is a light-bodied, off-dry white wine that has stone fruit and peach blossom flavors. When paired with these cheeses, the acidity and sweetness of the wine works well with the cheeses' stimulating characteristics.
---
Original article by: Erin Doman
From: learn.winecoolerdirect.com/cheese-and-wine-pairings